Ownership Experience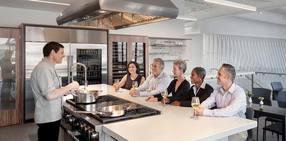 Please join us to familiarize yourself with the wonderful features your new appliances offer. Our Roth Living chef will answer any questions you might have and give you an opportunity to learn about recommended use and care for your appliances.
Ownership Experience: Convection Steam Oven
Join us at Roth Living for a workshop entirely centered around Wolf's Convection Steam Oven. This amazing appliance lets you achieve a golden roast turkey or vibrant steamed asparagus. Steam, roast, bake, slow cook—the possibilities are almost unlimited. In this hands-on class, we will show you how it works.
Chef's Table
Join us at the Chef's Table experience where you will be empowered to discover the perfect combination of appliances for your lifestyle. At the demonstration you will enjoy a dining experience created by our executive chef. Don't miss the opportunity to leave inspired to curate your appliances wisely.